Network and cyber Security
E-topia Technologies provides full-service strategic IT consulting services, help desk services, cyber security, network security and powerful managed cloud services and tools. Our supplemental and ongoing outsourced IT support solutions allow you to grow your business.
Network Security can be expensive. Call us to find out why we've been in business over 20 years.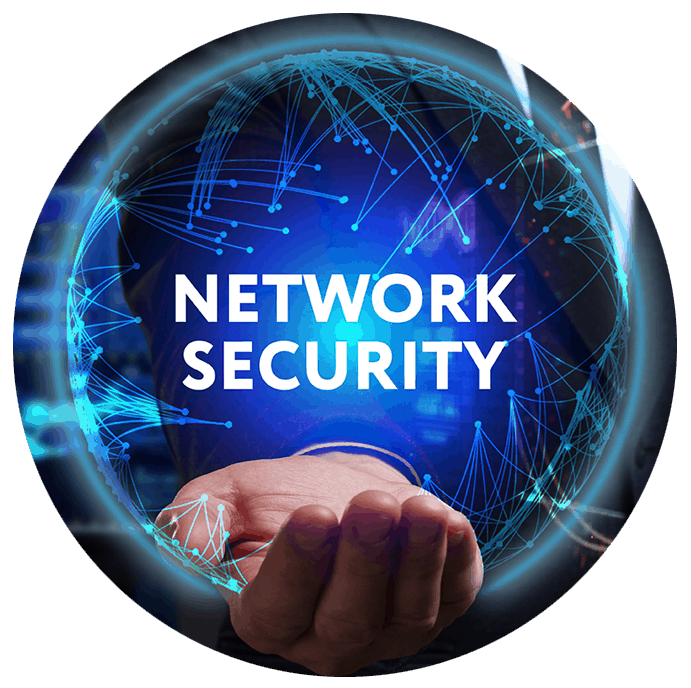 Network, IT, CMMC And Cyber Security Expertise
Maintaining a balance between security and functionality can be challenging. Let us develop a customized security plan to address all of the needs of your business. With over 20 years' experience working with a wide range of industries we are uniquely able to pinpoint the level of security you need and quickly plan and implement controls. We work with various types of companies including manufacturing, military contractors, law firms, not-for-profits and medical offices. Having our team on board is like having a full time IT staff at a fraction of the cost.
The Basics of Computer Networking Security - What Every Long Island Business Owner Needs to Know
As a Long Island business owner, a computer system is likely the backbone of your organization. As such, computer networking is an integral aspect of the function and success of your business, which means that network security also needs to be a primary focus of your operations.
What is computer networking security and how can you secure your networking system? Read on to find out how you can ensure that your business is properly protected.
What is Network Security?
Network security is a broad term that incorporates several different strategies, technologies, and devices. In its most basic form, network security refers to a collection of instructions and structures, the goal of which is to protect the privacy, accessibility, and the integrity of computer networks and the data they contain. A combination of processes, hardware technologies, and software technologies are used to achieve that goal.
How Does Network Security Work?
Effective network security successfully manages outsider's access to a network. Essentially, it manages a network, targets potential threats, and if any threats are spotted, they are stopped dead in their tracks, thus preventing them from infiltrating and spreading throughout a network.
Multiple factors need to be taken into consideration when designing the processes, procedures, and technologies that need to be used to protect an organization's network from potential threats. Since cyberattacks can occur at all layers of a computer network, the policies, software, and hardware that are put into place to protect the system must address them all.
Generally, network security is comprised of three separate controls that address the multifaceted layers of a computer network:
Physical security.

The purpose of physical network security is to prevent unauthorized users from acquiring physical access to the various components of a network. Examples of controlled access protocols include authentication procedures and locks.

Administrative security.

The controls used in administrative security aim to control the behavior of a user once he or she is granted access to the network. The policies and processes that are used to control the behavior of users include the manner in which they are authenticated and the level of access they are granted within the network.

Technical security.

This facet of network security protects the data that is stored within a computer network or the data that is transmitted across the computer network. The controls used for technical security purposes must shield both data and systems against threats from unauthorized users. It also has to provide protection against malicious activity.
Types of Network Security
There are several different types of network security that can be employed to secure a computer network. Some of the most common types of network security include:
Network access controls.

This type of security controls who can and can't gain access to a network. With network access controls, users and devices that are permitted to access a network are identified. Additionally, several policies can be put into place to further secure access to the network, such as blocking access to certain devices and controlling what users can do within the network.
Application security.

As the name suggests, this type of network security protects the applications within a computer network. It is designed to track and shut down vulnerabilities of applications. Apps can contain imperfections and weaknesses, and attackers can capitalize on these imperfections and weaknesses to penetrate a network, which is why application security is so important.
Firewall protection.

Firewalls serve as a barrier between a trusted internal network and distrusted external networks. They act as a gatekeeper, so to speak, and decide what can enter and exit a computer network by using a defined set of rules to allow or block the flow of traffic to a network. Firewalls can include software, hardware, or both.
Antivirus and antimalware software.

This type of network security shield organization from various types of malicious software, such as trojans, viruses, worms, and ransomware. The best antivirus and anti-malware software scans files when they gain entry to a network, and continues to scan and track them.
Virtual private network.

A virtual private network (or VPN) establishes and encrypts a connection with the network from a different site or endpoint, usually over the Internet. The data between a secure network and a device is encrypted and in order to allow communication between the network and the device, the user would have to authenticate.
Wireless security.

Mobile devices have become key players in organizations. In order for devices to communicate, they rely on access points and wireless networks. Wireless networks, though useful, aren't as secure as wired networks, which means that there's an increased chance for cyberattacks. With wireless security, the devices that can gain access to a network can be controlled.
Why Long Island Business Owners Need to Invest in Network Security
Companies and organizations of all sizes and across all industries need to have some type of network security system in place to protect themselves and those that they interact with from cybersecurity threats. As technology evolves and becomes more sophisticated, so too, do the processes that are used to execute cyberattacks. As a Long Island business owner, you have worked hard to build your organization. The last thing you need to do is subject yourself and the people you serve with the dangers that a cyberattack can present.
With a robust network security system in place, you'll be able to take advantage of the following benefits:
Reduced threat of cyberattacks and data breaches

Increased brand awareness

Improved reputation

Regulation compliance

 

Greater productivity

Enhanced efficiency

Reduced costs
For the Most Advanced Network Security, Contact Long Island's Most Trusted Cyber Security Agency: E-Topia Technologies
For the most robust, effective, and affordable network security services on Long Island, contact E-Topia Technologies. To find out how we can help protect your business from cyber threats, reach out to us today!