Cyber Security &
Computer Repair
Long Island
Why cyber-security Services are Essential for Your Nassau County Business
There may be a lot of cyber-security firms in Nassau County, but if you're looking for high-quality cyber-security that you can rely on at prices that your small- or medium-sized business can truly afford, look no further than E-Topia Technologies. For more than 20 years, we've been providing customized and scalable cyber-security services for Valley Stream, NY businesses; in fact, our services are so reliable that some of the biggest names in the area depend on us to handle all of their computer security needs. From computer networking to computer repair and more, you can count on our team of experts to keep your data safe from the damaging effects of cybercrime.
From Target to Equifax, it seems like another company has become the victim of cyber attacks every week. Data breaches have affected millions of American consumers, exposing their personal information and leaving them vulnerable to identity theft.
While big corporations that are victimized by cybercrimes are the stories that make the headlines, small- and medium-sized businesses are even more vulnerable to cyber-attacks; they also stand to lose a lot more than large companies. From the financial losses to reputation damage, the cyber-security stakes are extremely high for small corporations. In fact, the dangers are so severe that, according to recent reports, approximately 60% of smaller organizations shutter their doors within a few months of being affected by a cyber attack. This statistic really illustrates the importance of taking cyber-security measures.
As technology continues to advance, so too will the incidences of cybercrimes; in fact, it's likely that data breaches will become even more commonplace and the effects will be even more severe in the future. Therefore, if you are a business owner in the Nassau County location, investing in cyber-security services isn't just a good idea; it's an absolute must! Here's a look at the top reasons why employing professional cyber-security services is vital for your success.
To Reduce Costs
As the owner and operator of a smaller business, you're always looking for ways to cut costs; after all, given today's economic climate, running a business in Nassau County can be extremely difficult. But when you're assessing your budget, cyber-security is one area where you should never skimp. Lost productivity, recovering information, the damage to your reputation; the cost of recovering from a data breach is a lot higher than the amount you'll spend on cyber-security services.
If budget is a major concern, take comfort in knowing that you can get high-quality services that will keep your business secure at prices that you can afford. E-Topia Technologies, one of the leading cyber-security firms in Nassau County, offers a broad range of highly effective solutions that are specifically designed for the budgets of small- and mid-sized Valley Stream, NY companies.
Enhanced Reputation and Increased Brand Awareness
A solid reputation and great brand awareness are vital for your success. The better your reputation and the more consumers know about your company, the more successful your business will be. By investing in the services that cyber-security companies offer, customers will know that their security is one of your top priorities.
Given how commonplace cyber attacks have become, consumers want to work with businesses that properly protect their sensitive information. When you have an effective cyber-security system in place, your clients will have greater peace of mind knowing that their digital information will be kept private from the prying eyes of hackers. When you have privacy policies in place, you'll generate a buzz for your business as a leading authority in your industry.
Ensure You're Compliant with Regulations
In response to the influx of data breaches and Internet crimes, governing authorities have put cyber-security regulations into place. Businesses of all sizes and across all industries are now required to make the necessary steps to protect the sensitive digital information of their clients. If you don't have the necessary protections in place, you could be hit with serious penalties, and for businesses in the Valley Stream, NY area, those penalties are stiff.
Like technology, computer security regulations are ever-changing. Trying to stay abreast of those regulations and ensuring that your company is adhering to the most current laws can be tough. By investing in the cyber-security services offered by a reputable Nassau County firm, you can have confidence knowing that your company is fully compliant with the latest standards, thereby ensuring that your clients – and your business – are properly protected.
Improved Productivity
A cyber attack can bring business operations to a halt. While the threats are being assessed and the necessary measures are being taken to secure your systems and repair the damages, it's likely that your company will need to shut down for a prolonged period of time, and when it comes to business, every second counts.
Reputable cyber-security firms will help to reduce the risk that data breaches can have on the productivity of your company. Their team of experts will put into place the necessary safeguards to protect your business from the damaging effects of cybercrimes; and, in the event that an attack does occur, they'll be at the ready and will deploy the necessary strategies to begin the recovery process right away. Less downtime means more productivity, and more productivity translates to greater success.
E-Topia Technologies: Nassau County's Most Trust cyber-security Firm
For the highest quality and most effective cyber-security services in Nassau County at prices that will work for your small- or mid-sized company's budget, look no further than E-Topia Technologies. We're dedicated to providing reliable and scalable data protection at cost-effective prices for smaller business operations. Our vast experience, proven track record of success, and A+ ratings are true testaments to the quality of service you'll receive when you choose our team of experts for your cyber-security needs.
To find out more about our services or to schedule a comprehensive data analysis for your Valley Stream, NY business, give us a call at 631-744-9400. One of our associates will be happy to assist you with all of your needs.
We understand how expensive Network Security can be, Call us and find out why we have been in business over 20 years.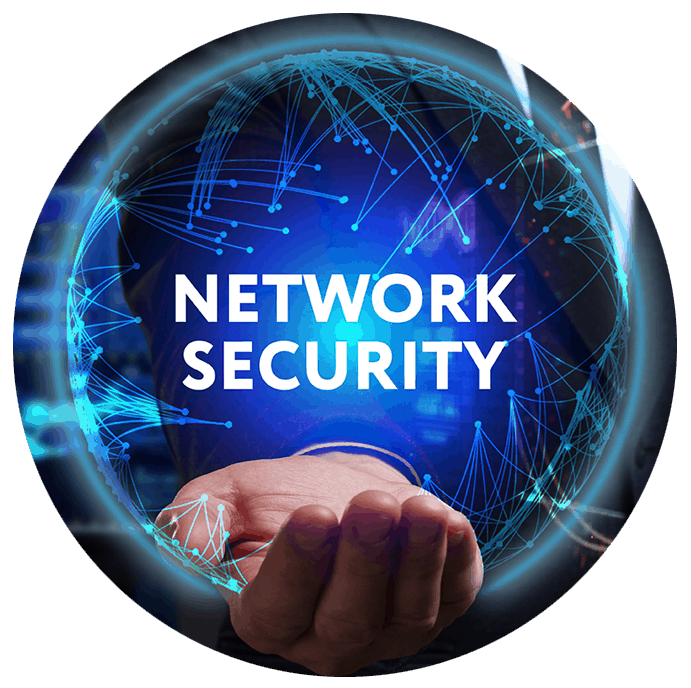 Network Security
Maintaining a balance between security and functionality can be challenging. Let us develop a customized security plan to address all of the needs of your business. With over 20 years' experience working with a wide range of industries we are uniquely able to pinpoint the level of security you need and quickly plan and implement controls. We work with various types of companies including Manufacturing, Military Contractors, Law Firms, Not for Profit and Medical Offices. Having our team on board is like having a full time IT staff at a fraction of the cost.