Cyber Security &
Computer Repair
Long Island
The Benefits cyber-security Firms Offer North Amityville, NY Businesses
Are you a small- or medium-sized business owner in North Amityville, NY? Have you been looking for cyber-security companies that offer the services you need to protect your organization from cyber attacks at prices that won't break your budget? If so, you've come to the right place! For more than 20 years, E-Topia Technologies, one of the leading cyber-security firms in Suffolk County, have been protecting companies throughout the area from the damaging effects of data breaches. Offering a wide range of high-quality cyber-security services that are specifically designed for small- and mid-sized operations, you can count on our team of highly trained and experienced experts to protect your computer networking system from hackers. Don't let your company be victimized by computer-related crimes; contact the E-Topia Technologies today!
Of all the risks business owners face, cybercrimes are among the most prevalent; they're also some of the most damaging. Data breaches have become extremely commonplace and the effects can be devastating. How can you protect your business from the dangers of Internet crimes? – By investing in computer security services. Here's a look at some of the top benefits cyber-security firms provide.
Protection from Cyber Attacks
It goes without saying that the biggest benefit of investing in the services that a professional cyber-security firm provides is protection from cyber attacks. A reputable firm will offer a variety of services that are customized to meet your company's unique needs. Those services will be scalable, too, so that your defenses will be instantly updated as your business evolves to ensure that hackers are always kept at bay.
Improved Success
When your computer networking systems are left unguarded, your clients run the risk of having their sensitive information compromised. Data breaches can result in identity theft, fraudulent account activity, account closures, and more. cyber-security firms will ensure that your client's personal details are secure from these dangers, which not only benefits them, but it benefits your company, too. Consumers will have peace of mind knowing that their security is one of your top priorities, which will significantly boost your reputation and improve your success.
Cost Savings
Like many small- to mid-sized business owners in North Amityville, NY, you may be operating on a shoestring budget. If that's the case, you might assume that you can't afford to invest in cyber-security services. Given the high prices that many Suffolk County cyber-security firms charge, that's understandable; however, when you consider the extensive cost that data breaches can cost – tens of thousands of dollars, if not more – coupled with the damage to your reputation and the potential customer loss, you can't afford not having a computer security system.
A highly dependable cyber-security firm will offer prices that will work within your price range so that you can get the protection you need without having to worry about breaking your budget. In the long run, hiring a data security firm will cost you a lot less than the expense of recovering from a cyber attack.
Ensures Compliance
The rise of massive data breaches among some of the largest corporations in the country have left millions of people vulnerable. Digital information theft is the most commonly reported form of business-related fraud in the 21st century. In an effort to protect consumers, businesses are mandated by law to have cyber-security protections in place. As per the Federal Communications Commission (FCC), businesses of all sizes and across industries are responsible for employing security measures that protect sensitive digital information, thereby minimizing the risk of fraudulent activity and identity theft.
By aligning with a cyber-security company, you can ensure that your business is compliant with the latest laws and regulations that pertain to protecting consumers from the dangers of cybercrimes. A reliable firm will also assist you with shaping policies for your business that pertain to cyber-security to make sure that your operation remains compliant with these requirements.
Immediate Solutions
Should your North Amityville, NY business become the victim of a cyberattack, a Suffolk County computer repair firm will take immediate action and offer the most effective solutions to minimize the damage. You'll have peace of mind knowing that a team of highly trained professionals will be standing guard and will instantly deploy measures to secure your systems and keep your data safe from prying eyes.
In short, every business owner needs to have a plan of action in place to protect their data and their clients. By investing in the services of a reputable Suffolk County cyber-security firm, you – and your customers – can have confidence knowing that sensitive information will be properly protected from cybercrimes.
For the Highest Quality and Most Affordable cyber-security Services in Suffolk County, Look No Further Than E-Topia Technologies!
No matter the size of your business or the industry you're in, if you own and operate a company in North Amityville, NY, and you're looking for the most reliable cyber-security services, contact one of the most trusted cyber-security firms in the area: E-Topia Technologies. We offer completely scalable solutions that are designed to meet the specific needs of your company, including your budget. To learn more about how we can keep your business protected with high-quality solutions, give us a call today at 631-744-9400! When you have our experts standing behind your computer systems, you'll have confidence knowing that your data is being protected by the most capable hands.
We understand how expensive Network Security can be, Call us and find out why we have been in business over 20 years.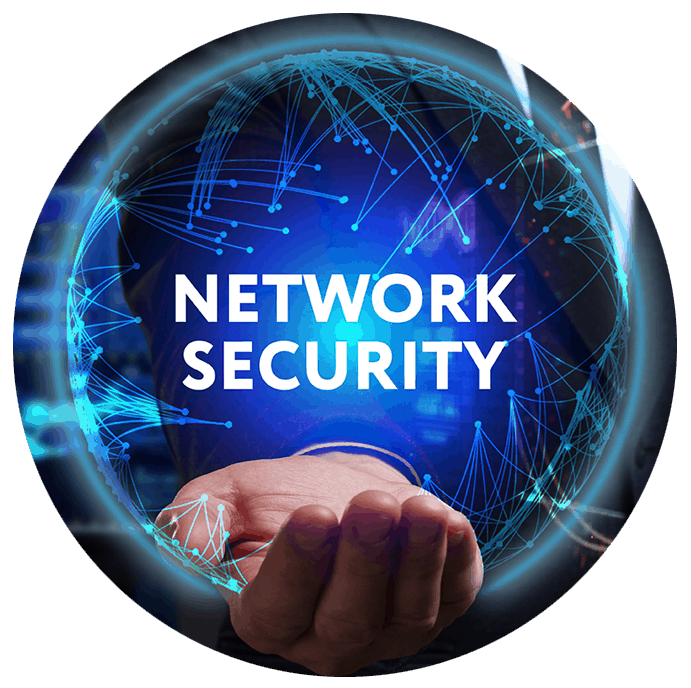 Network Security
Maintaining a balance between security and functionality can be challenging. Let us develop a customized security plan to address all of the needs of your business. With over 20 years' experience working with a wide range of industries we are uniquely able to pinpoint the level of security you need and quickly plan and implement controls. We work with various types of companies including Manufacturing, Military Contractors, Law Firms, Not for Profit and Medical Offices. Having our team on board is like having a full time IT staff at a fraction of the cost.