Cyber Security &
Computer Repair
Long Island
E-Topia Technologies: The Suffolk County Computer Repair Experts
When the business owners of Suffolk County are in need of fast, efficient, and affordable computer security, computer networking, and computer repair services, they turn to E-Topia Technologies. Our goal is to provide small- and medium-sized businesses throughout the Brightwaters, NY area with high-end IT and cybersecurity services at prices that won't strain their budgets. Offering scalable solutions that are customized to meet the current and future needs of our clients, business owners know that they can count on E-Topia Technologies to handle all of their computer repair and cyber-security needs.
No matter what industry you're in, a computer system is a vital component of your Suffolk County company. It connects you to clients and vendors, you use it to generate and manage invoices, and you rely on it to handle various other aspects of your business; without it, it's safe to say that your operations would crumble, and if not, at least be extremely difficult. Unfortunately, however, while computers can certainly handle a lot, they aren't infallible. From slow connectivity to operating system issues, there are a variety of problems that can arise, and when they do, you need the fastest computer repair services possible.
If your business is located in the Brightwaters, NY area and you're having trouble with your computer, for the fastest, most efficient, and most cost-effective computer repair solutions, contact E-Topia Technologies. As one of the area's leading IT and cyber-security companies, our technicians will have your business computer back up and running in no time!
High-Quality Computer Repair Services at Prices You Can Afford
Suffolk County small- to mid-sized businesses rely on their computers as much as Fortune 500 companies; however, they usually don't have the budget to cover big-ticket prices for computer repair. Just because your budget is limited, it doesn't mean that you should have to settle for anything less than exceptional IT and repair services. At E-Topia Technologies, one of the leading IT and computer security firms in Suffolk County, we cater to the needs of small- and medium-sized businesses. We offer a range of high-quality computer and information technology services, such as networking, cybersecurity, and of course, computer repair, at prices that are specifically designed for small business owners.
The goal of E-Topia Technologies is to provide full-service, premium IT solutions at cost-effective prices. Our team of highly trained technicians is knowledgeable in the most advanced Network Security Standards, authentication protocols, virus, and spyware removal, malicious software prevention, networking, configuration, penetration testing, hardware installation, and so much more. In short, when it comes to troubleshooting and preventing computer issues, E-Topia Technologies does it all!
Signs Your Suffolk County Business Needs Computer Repair
While it's pretty easy to tell when a computer is already broken, it can be hard to determine if it's on the verge of breaking down. Usually, a computer will start showing signs of trouble before it stops working. If you want to avoid a crisis situation, knowing what the signs of trouble are and paying attention to your computer is essential.
There are a variety of signs that are indicative of computer problems, but some of the most common signs of trouble include:
Slow operation. Generally, if a computer is functioning properly, it runs pretty fast. If it's running a lot slower than it usually does or – it takes what seems like forever to start up or to reach a destination – something is amiss.
Odd noises. Even when they're working as they should, computers do make some degree of noise; however, if you notice any odd sounds coming from the machine – unusual whirring, buzzing, screeching, grinding, zapping, or any other out of the ordinary sounds – something is definitely wrong.
It's running hot. Computers are comprised of various working components that generate heat. Built-in fans and vents prevent overheating, but if the fans aren't running properly or the vents are clogged, the system won't cool down and a number of problems can arise. If the machine keeps shutting down, the fans are working on overdrive, or if it's hot to the touch (for example, if your laptop is too hot to place on your lap), the system is running too hot.
Blue Screen of Death (BSoD). If your computer screen turns blue and displays an error code, you're experiencing the dreaded Blue Screen of Death, a classic Windows error. When this happens, your computer has encountered a critical error, such as an issue with the hardware or software, or even a virus, and Windows will freeze. Sometimes, restarting the machine will correct the problem; for example, if something didn't load properly when the computer booted up. However, if rebooting the computer doesn't remedy a BSoD, something is seriously wrong.
Freezing, crashing and restarting. When a computer freezes up, crashes or restarts without warning, something serious is going on and it needs to be addressed.
If you're experiencing these or any other problems with your computer, don't delay; contact a professional computer repair company right away! The longer you wait, the worse the damage will become and the more problems your computer – and your business – will encounter.
Computer Repair from E-Topia Technologies
As a leading Suffolk County IT specialist, E-Topia Technologies has the knowledge and skill you can count on to troubleshoot your computer problems. Our expert technicians will run comprehensive tests to pinpoint the cause of the problem and will make all necessary repairs to correct the issue. When our team of competent professionals is on the job, you can have peace of mind knowing that you will receive the fastest, most affordable, and most effective solutions.
To learn more about our services or to schedule an appointment, please give us a call at 631-744-9400 today or visitwww.etopiacorp.com and fill out our online contact form. However you get in touch with us, one of our knowledgeable associates will be happy to assist you. For the fastest and most effective computer repair solutions, contact the IT experts Suffolk County business owners trust most: E-Topia Technologies.
We understand how expensive Network Security can be, Call us and find out why we have been in business over 20 years.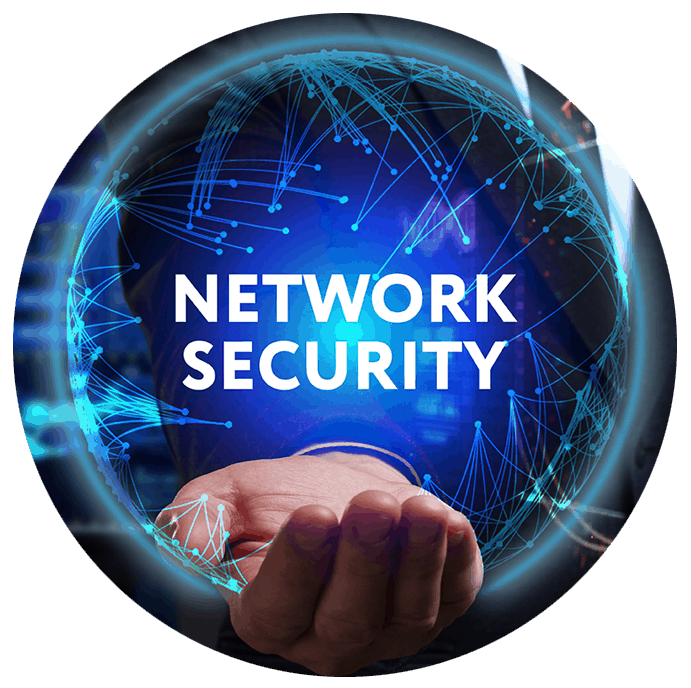 Network Security
Maintaining a balance between security and functionality can be challenging. Let us develop a customized security plan to address all of the needs of your business. With over 20 years' experience working with a wide range of industries we are uniquely able to pinpoint the level of security you need and quickly plan and implement controls. We work with various types of companies including Manufacturing, Military Contractors, Law Firms, Not for Profit and Medical Offices. Having our team on board is like having a full time IT staff at a fraction of the cost.